March 21, 2018
Hi everyone,
This week (March 19 – 25) is local food week in Wellington, the sixth year Wellington has celebrated it. So I have been around and photographed all the wild/community fruit trees I know of in the valley, and they feature in this newsletter. If I have missed any, feel free to contact me and I can add to the list. Most trees are fairly young and not fruiting yet, but it is good to know that there are sheltered pockets in the valley where fruit trees can survive the wind, salt and the Council mowers!
Little Free Libraries in Houghton Valley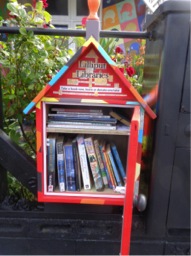 Little Free Libraries, or Lilliput Libraries, is an international movement that promotes community, responsibility, and the love of reading. Little free libraries are small book exchange libraries that people are starting to put up all over their neighbourhoods. Locals get together to make and decorate them. They are placed on private property out near the footpath so that passers-by can give or take books from it. Each one has a caretaker.
If you are interested in designing, building, hosting, or being a guardian of a Little Free Library, please contact Jessica.
For more information, check out the following websites:
https://lilliputlibraries.wordpress.com/
https://natlib.govt.nz/blog/posts/the-magic-of-little-free-libraries
Upper Newtown Development

As the Salvation Army complex is nearing completion we have heard through the grapevine that Newtown New World is going to have an $80 million makeover of their current store. It is intended to be their headline store for Wellington.
Maybe one of these big players could expand their social services and fit in a post office!
Community Fruit Trees in Houghton Valley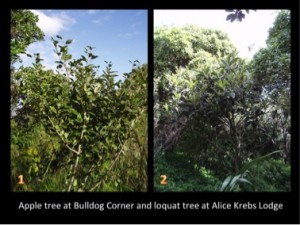 Te Raekaihau Headland surprisingly has a couple of fruit trees tucked away in sheltered spots. Site No.1 is an apple tree at a junction of several tracks including the Kae Miller track, known as Bulldog corner because of the bulldog statue commemorating a local pet. The tree was planted by a local, Piebe Kooistra, who during his latter life created and looked after many tracks on the headland and planted many trees. Site No. 2 is a loquat tree at the Alice Krebs Lodge near the highest point of the headland.
On the Southern Walkway track leading up to the horse paddock behind the school, five fruit trees were planted on the bush side by locals as part of the WCC Fruit Tree Guardians Project. Site No 3. has two feijoas and a apple planted near the bottom gate, and site No 4. has two apple trees further up, near the track to the school.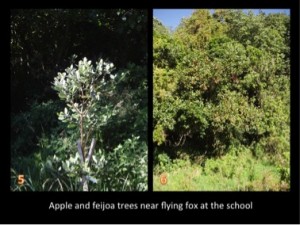 On the track from the Southern Walkway down to the School, school children planted two feijoas at a sharp bend, site No. 5. Unfortunately only one has survived. At the bottom of the path and along a bit is site No. 6, an established apple tree, which bears a good crop of apples most years.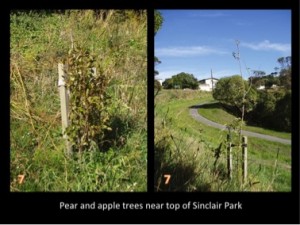 At the top of the Southern Walkway track, just before Buckley Road, site No. 7 is a group of four apple and pear trees planted by another local fruit tree guardian who is no longer living in the valley. This is a great spot for more trees as it is very sunny and sheltered.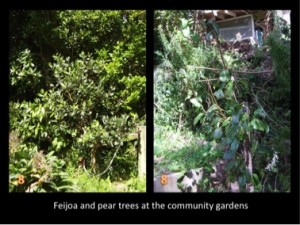 The community gardens just North of the School, site No. 8, has three fruit trees, a lemon, a pear and a feijoa.
(mailing list clean-up, 166 recipients, 75 opens)