April 6, 2018
Another medley of items: this time video is being featured, maybe it will inspire you to send in some footage you have taken that celebrates the place where we live. Don't forget I am happy to use photos that you have taken for the newsletter banner.
Dolphins in Houghton Bay
Last week there were literally hundreds of dolphins in Houghton and Princess Bays. A workmate of a local took some drone footage of them sporting near the shore. An amazing sight!
Houghton Valley Progressive Association meeting
The next Houghton Valley Progressive Association meeting is coming up this Sunday, 4pm at the community hall. All are welcome. Under discussion will be the GWRC Long Term Plan and the WCC Long Term Plan coming up for consultation on April 15.
If you are interested in what is happening over the hill, the Kilbirnie-Rongotai Progressive Association is having a meeting on 12 April at the Harbour City Chapel at 7.30 pm. They will be having a guest speaker from Wellington Water with an update on storm water and the Kilbirnie pump station.
Water in our sea and skies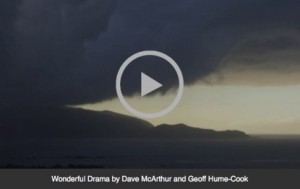 Upper Houghton Valley has a fine view of the Baring Heads, a promontory at the South-West entrance to Wellington Harbour. Dave McArthur has a spectacular view of the headland and has documented the ever-changing forms of water in the sea and sky over several years. Together they form a graphic 'riff' on his view of that headland.
This 'animated' version of his still images was compiled by Geoff Hume-Cook of Transforming Images, who is a past and now honorary local. The video clip was made in 2014 as part of a Waterwheel Online Conference, in which several local artists participated.
Wonderful Drama: WATER (Clip for part 2 of Dave McArthur's contribution) from Transforming Images Ltd.
(167 recipients, 85 opens)