March 2, 2022
Seed-to-Feeds Community Dinner this Sunday
Sunday March 6, 4 – 6 pm at Houghton Valley School
The Haewai / Houghton Valley Seeds-to-Feeds Festival Community Dinner is happening again this year. We are hosting a COVID safe community meal that you can enjoy with us in the Houghton Valley School hall or wherever else you would like to eat.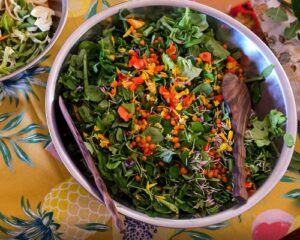 This yummy dinner will be prepared by locals and the Seeds to Feeds team, and will include vegetables and wild plants harvested from local mārakai or foraged from our ngāhere.
The tickets are koha, whatever you can afford. There are only 60 meals available, so be in quickly! If you know anyone in our community who might be isolating, sick, or unable to join us for any reason we encourage you to collect a meal to take to them so that they still get to enjoy some delicious local kai. All funds raised will go towards school projects.
We will have limited spaces for indoor dining, or if the weather is fine you can collect your meal and gather with your family or friends to have a picnic on the school grounds. If the weather is not so good, we will serve from the school hall and you can scurry home and enjoy a Sunday dinner cooked by someone else.
We hope you can support this community venture and enjoy some great local food!
For more details (including menu) and to get your tickets go to: https://www.seedstofeeds.nz/new-events/haewai-into-the-wildness-pop-up-and-picnic (link not current)
(154 recipients, 96 opens)